Monday, March 9, 2020 — Miami, FL- Drew Estate announces today that the Pappy Van Winkle "Tradition" will now be sold exclusively through Pappy & Company at www.pappyco.com.
Drew Estate is honored to represent the Van Winkle Family with an ultra-premium cigar that reinforces the legacy of a living American icon, Julian Van Winkle. The Pappy Van Winkle "Tradition" features an Ecuadorian Habano Oscuro wrapper, Indonesian Binder and aged fillers from Nicaragua and the Dominican Republic.
From Louisville, Kentucky, Carrie Van Winkle Greener, Co-Founder of Pappy & Company, notes, "The recent launch of the Tradition blend in the Pappy & Company cigar portfolio is an exciting new addition. As our customers' interest and demand grows for more cigar offerings, we are thrilled to bring to market the Tradition blend which will truly complement the rest of our bourbon-inspired goods."
From the Wynwood Safehouse, Jonathan Drew, Founder and President of Drew Estate, adds, "We are thrilled to be providing the daughters of Julian Van Winkle, owners of Pappyco.com, with an exclusive cigar that is deeply aligned with the core of their culture and tradition and that matches the legacy of their brand. The Pappy Van Winkle "Tradition" is an exquisite stick, made for the true connoisseur, bursting with flavor and complexity."
The Pappy Van Winkle Tradition is available exclusively on pappyco.com in the following vitolas:
Robusto Grande (5.5 x 54) MSRP $140.00/10ct Box
Toro (6 x 50) MSRP $150.00/10ct Box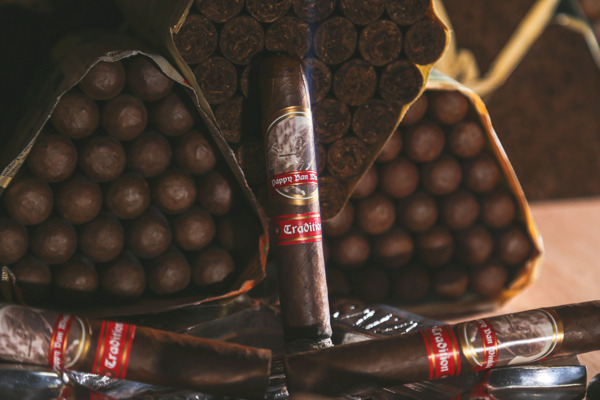 ABOUT DREW ESTATE
Founded in New York City in 1996, Drew Estate has become one of the fastest growing tobacco companies in the world. Under their mantra "The Rebirth of Cigars", Drew Estate has led the "Boutique Cigar" movement by innovating new elements to the tobacco industry with their unique tobaccos and blending styles that attract new and traditional cigar enthusiasts. In their Gran Fabrica Drew Estate, the Nicaraguan headquarters, Drew Estate produces a variety of brands such as ACID, Herrera Estelí, Herrera Estelí Norteño, Isla del Sol, Kentucky Fired Cured, Liga Privada, MUWAT, Larutan by Drew Estate, Nica Rustica, Pappy Van Winkle Barrel Fermented Cigars, Tabak Especial, Undercrown, Florida Sun Grown, and Java by Drew Estate.