There are a lot of jokes you have to acknowledge up front when reviewing a cigar whose name translates to "shuttle", and that's made by a former employee of NASA. Things like, "does it take a rocket scientist to blend a good cigar?" Or perhaps, "I'm worried this cigar will be so strong it'll send me into orbit!" I'm sure there are more out there where those came from. Undoubtedly Omar de Frias has heard them all, probably daily. (I have not, so feel free to leave your rocket/space/NASA cigar jokes in the comments below.)
With the more obvious jokes quarantined for the moment, here's a briefing on the Fratello Navetta. As previously mentioned, "Navetta" means shuttle in Italian. And accordingly these cigars were on display inside a model shuttle at IPCPR 2017. Unfortunately (or fortunately for shops with limited space), the cigars are not actually packaged in a shuttle- it's a standard 20-count box with a shuttle theme. The three country blend of tobacco is made in the Joya de Nicaragua factory, and is intended to be a celebration of accomplishment (like a completed NASA mission) as well as a tribute to those who risk it all to further our understanding of the universe beyond our convenient breathable air. You'll find them on shelves running from $10 to $13 per stick, depending on the size, plus your local taxes. (Which reminds me, I need to ask Omar which is growing faster, the universe or domestic tobacco taxes.) I hear a count down, it must be time for this review to take off.
Cigar Stats:
Size: 5 x 50
Wrapper: Ecuadorian Oscuro
Binder: Dominican
Filler: Nicaraguan
Price: MSRP $10.50
The Pre Light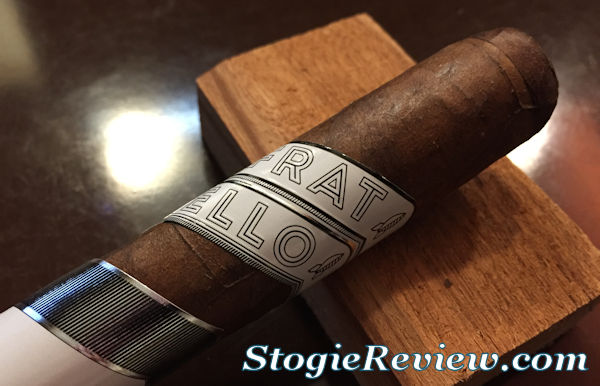 After jettisoning the sizeable foot band, I checked the scent of the wrapper and the foot of the cigar. Both had a rich, sweet chocolaty aroma. The wrapper itself was rustic in appearance, some mottling, dark streaks and intermittent toothiness. But no shortage of surface oils. The veins were generally on the finer side of medium. The cold draw produced caramel and raisin notes. In all, pretty appealing.
The First Third
Ignition delivered a rich and sweet profile of chocolate, raisins, syrup and maybe even some coconut. Before long these elements were joined by coffee, vanilla, and some mild pepper. The cigar's burn at this stage was pristine, solid, even, bright white ashes, perfect draw, and big smoke volume.
The Second Third
Coffee and vanilla continued to be a big players in the flavor profile in the middle portion of the cigar. An interesting herbal spice made an appearance here, and seemed kind of similar to cumin. There were were also an earthy cocoa in this third that was different the chocolate earlier on. And pepper grew a little. The retrohale so far had been very pleasant, but I noted here that it contributed an almost floral quality to the cigar. The burn characteristics continued to be top notch, with a minor glitch here and there.
The Final Third
Here at the end there was a bump up in earthy spices, but there was still a considerable sweetness to the profile. Many of the preceding flavor notes were present, though bolder coffee, black tobacco and earthy spices were taking over. A lot of times you can tell when a cigar is done- by flavor or by burn issues- but the Navetta kept going, and kept tasting good until it became impractical to keep smoking it. I haven't nubbed a cigar like this in a while.
The Verdict
With the darkness of the wrapper and the shuttle theme, you might expect this to be a really potent smoke, perhaps thinking about rocket boosters that send the shuttle into space. They are similar in shape, after all. But really, it's medium-full smoke. There's a good deal of sweetness in the profile of this cigar, and that makes a lot of sense. Victory is sweet, and the Fratello Navetta is intended to be the tobacco equivalent of a "Mission Accomplished" celebration. I've smoked quite a few of these since they landed in my shop late last year, and I think they're great. The Fratello Navetta is easily worth buying by the box.