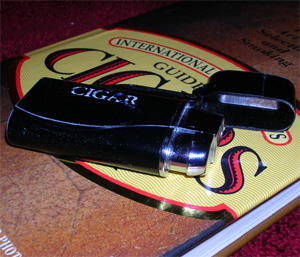 As I sit here puffing on a cigar and staring at an old beat-up lighter, I'm struggling to remember just how long I've had this thing. Some time ago I purchased my very first magazine subscription. It was Cigar Magazine and I was impressed with the free free copies given to me by a local shop.
To sweeten the pot, the Cigar Magazine subscription came with a free Colibri "Cigar" Lighter. Before receiving my first issue, my free lighter arrived and immediately became the replacement to my blue LED lighter from eBay.
My new lighter had a black body and white lettering that spelled out the word Cigar. Being all metal, it had a solid feel in the hand. When opening the sprig loaded lid, the tension in the spring made it feel sturdy and well built.
As time went by I began to learn the ins and outs of my lighter. For instance, if it was cold, the lighter would need to be rubbed against a pair of jeans to build up friction and warm the butane inside. Without the little bit of warmth, the lighter would never ignite. I also learned that when the butane level in the small tank began to dwindle down, the flip up lid would get in the way of lighting due to the small flame that was produced.
Over time I slowly drifted away from my Cigar lighter. It hung around as a backup for a while, but was eventually put into a small humidor filled with other things that have long been forgotten.
While digging around looking for a cheap Havana Cutter to give away, I came across my old Cigar lighter. I opened the lid, which was still as stiff as the day I got it, and gave it a spark. Without hesitation it fired right up.
The amazing thing about this lighter is that it has been dropped, kicked, gone through the washing machine, and generally abused for months, and fired right up on the first try. The letters are faded and the body is all scratched up, but today this lighter just earned the title of backup lighter once again.
I've gone through a dozen lighters since getting my Cigar lighter and all of them have died a miserable death after relatively little use. The lighter may have it quirks and has probably been discontinued long ago, but it has far exceeded my expectations from a free lighter.
With my recent subscription to Cigar Magazine once again, I can only hope that my free Colibri Cigar II lighter will serve me as my original.
Does anyone have an old cigar accessory that has
stood the test of time and exceeded your expectations?
---