Once again, the season of lists is upon us. And in keeping with tradition, we err on the side of caution when it comes to creating our list of the top 10 cigars for the year. The goal is to publish after we're certain the old year is completely dead, but just before people get completely used to writing the next year in dates.
This is the place where make the obligatory note about how hard it is to make a list of the top 10 cigars each year: So hard. Hand-wringing, beads of sweat on the forehead, all of that. But a change in how we do reviews this year actually made it a little less hard. The neat thing about numerical ratings is, you can sort them. Sorting numbers is kinda revolutionary for us here. But since we started assigning numbers midyear, it's not all just spreadsheet work. I think that's enough polite introductory chatter for now, let's get to the main attraction.
Honorable Mentions
The following cigars were very good, but didn't quite make the cut.
Mombacho Cosecha 2013
The very limited production Mombacho Cosecha 2013 was very close to making it into the top 10 cigars list this year. It's an impressive earthy, peppery, and woody smoke with a lot of subtle flavor cameos that really makes it taste like a special occasion cigar. (I lit one up while working on this list, in fact.) If you took advantage of the opportunity to buy a box, you made the right call. – Brian
JRE Aladino Corojo Reserva
JRE has been a company that has really caught my eye this year, especially with their Aladino line. We reviewed the regular Aladino earlier in February of last year was we were really wowed by the cigar. This year they released the Corojo Reserva version of the Aladino which is just as amazing. It has a much richer flavor profile with more spice than the regular Aladino and an added slight molasses note. If we could have gotten our hands more of these, it would have easily been on the Top 10 list, but, alas, most cigar shops don't have these yet. Keep an eye out for these special gems. – Ben
The List
You know how this works. Let's count them down starting with number ten.
This cigar is one I've probably smoked the most of this year. I love medium bodied Connecticuts and this is one, if not the best, on the market. Released this year at IPCPR 2018, I immediately fell in love. It has a great flavor profile of vanilla cream, almonds, cinnamon and cedar with a medium body. It knocked off the EP Carrillo as my benchmark Connecticut that I use as a reference to judge all other Connecticuts. It's just and outstanding cigar. – Ben
This is a cigar that I didn't have until later in 2018 after the IPCPR show in Las Vegas. Justin has already reviewed it and gave it a rave review, Brian also raved about it, so I knew it was very good, but I didn't realize how good until I smoked it myself. It has notes of pepper, cocoa, raisin, peanuts with a slight coffee note. It's another amazing release from Crux. – Ben
Smoking the latest version of the Tatuaje Monster Series each year has always been something we look forward to. And The Bride is one of the best, if not the best of the series. It's a fitting conclusion to a series that has become a cherished annual event for so many.
The Balmoral Serie Signaturas Dueto is definitely Brian's favorite cigar bearing the Balmoral name. As anyone who talked to him during the trade show may remember, its one of the cigars I mentioned when asked what I'd had that was good during the show. It's not surprising in any case, We've been big fans of many of Ernesto Perez-Carrillo's other blends, and this one really appeals to our love of Nicaraguan tobacco.
Florida Sun Grown tobacco is a tricky tobacco to blend with, and can lead to polarizing results. But Davidoff did a great job with it in the Davidoff Florida Selection Limited Edition 2018. It complements the Yamasa and Nicaraguan tobaccos Davidoff used in the blend nicely, giving it an extra pop that puts the cigar over the top, landing it solidly in our list of the top 10 cigars for 2018.
This regular rotation cigar is the kind you spend half your smoking time thinking man, this is such a great cigar. The Aganorsa Leaf Connecticut deserves praise for burning well, even when smoked slowly. Billed as a cigar that's "not your father's Connecticut", but that's only half the story. It may not have been around in your father's cigar heyday, but we think he would have welcomed it if it were.
Davidoff has had a great track record with limited editions, a good thing too, they've been releasing a lot of them lately. The Davidoff 50th Anniversary Diademas Finas was our favorite this year, with its great flavor, nuance and long finish. They're not inexpensive, but you won't regret having one on hand for your next special occasion.
The Sin Compromiso is one of those cigars we were really looking forward at the 2018 IPCPR trade show. And it lived up to expectation. The Sin Compromiso is loaded with amazing flavor with a balanced full body. The earthiness, sweetness, and nuttiness are balanced out with spices and nice espresso bitterness. The attention to quality is definitely shown by the smoothness of the cigar. This is definitely a full box worthy cigar.
The Crowned Heads Court Reserve XVIII wowed us when we sampled it at trade show, and has continued to impress us ever since. The rich flavor profile of cherry, cocoa, black pepper, graham cracker and walnuts is not something you want to miss.
It's safe to say this cigar knocked Ben's socks off, he says it may be the best TAA cigar ever released. As of this moment, it has the highest rating we've ever given to a cigar. The Opus X Forbidden X TAA Keeper of the Flame is quite different from your standard Opus X cigar, it is more robust and has a maduro wrapper. It also has an rich flavor profile that is well balanced. It's the kind of cigar you never want to put down, and you feel a little sad when it has finished.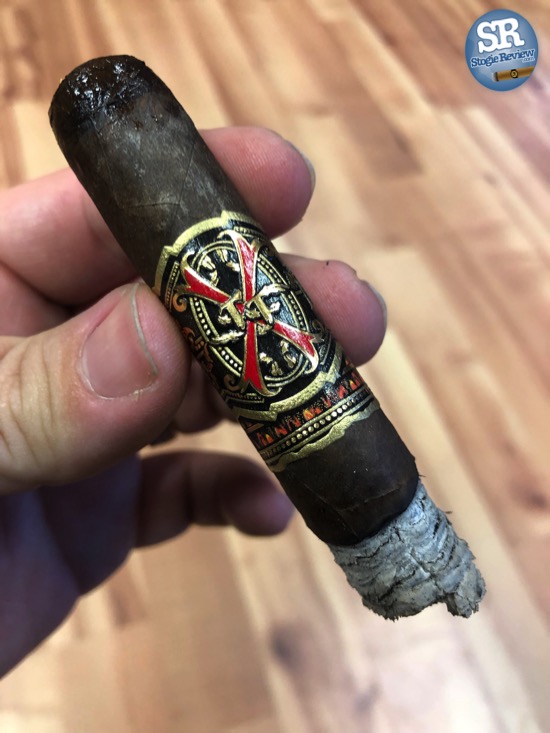 That about does it for 2018. If you have thoughts about our list that you'd like to share, or just want to tell us what your top 10 cigars of 2018 were, leave a comment below.